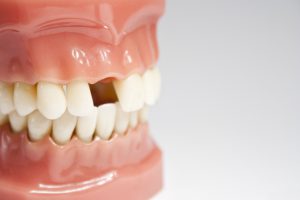 The best replacement for a missing tooth will vary based on the patient's unique needs and lifestyle. At Elite Dental Dr. Andrew E. Skasko offers a variety of tooth replacement options to restore oral function while ensuring highly natural-looking results. For patients with only one missing tooth, the most beneficial options typically include a dental bridge or a dental implant with a porcelain crown attached. If several teeth need to be replaced, conventional dentures, implant dentures, and implant bridges are often the ideal replacement options. Each of these restorations can be customized to fill the gaps left behind and be virtually undetectable from the surrounding teeth.
Utilizing advanced smile design technology, Dr. Skasko works with his patients to create a digital mockup of their new restoration to allow them to "try on" their tooth replacement and provide feedback. This helps him to better understand the patient's expectations and plan the details of their treatment accordingly. During this process, Dr. Skasko educates the individual on their options to ensure they understand both the benefits and limitations of the different restoration types.
For more information about which tooth replacement option is right for your needs, please contact Elite Dental to schedule an appointment with Dr. Skasko.