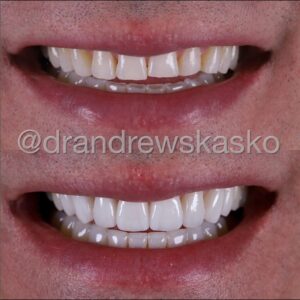 An asymmetrical smile is a common concern with a variety of potential causes, including disproportionate teeth, a misaligned bite, or an uneven gum line. Fortunately, there are several cosmetic dental procedures that can help you obtain a more balanced smile aesthetic.
Our New Albany cosmetic dentist Andrew Skasko, DDS and his team use cutting-edge smile analysis technology to determine the best procedure to address each patient's unique needs and goals. Potential treatment options include:
Porcelain Veneers – Veneers are thin sheets of dental porcelain bonded to the fronts and sides of the teeth, enabling them to address the size, shape, color, and length of individual teeth. They can also conceal minor tooth misalignment. Porcelain veneers can often be designed and placed in as few as two dental visits, making them an appealing option for many patients interested in obtaining a more uniform smile.
Porcelain Crowns – Fitting over the affected tooth like a cap, porcelain crowns strengthen the tooth structure while concealing wear, staining, and other forms of damage that can contribute to an uneven smile appearance.
Cosmetic Bonding – Cosmetic bonding can help enhance the symmetry of your smile and improve the appearance of worn, chipped, or discolored teeth. During treatment, a tooth-colored resin is applied to each affected tooth and then carefully sculpted into place to create beautiful, natural-looking results.
Gum Recontouring – Advanced laser technology allows highly-qualified cosmetic dentists like Dr. Skasko to carefully sculpt a more proportionate gum line by removing excess tissue. This can improve the balance between the teeth and gums, resulting in a more symmetrical, aesthetically pleasing smile.
At Elite Dental, we employ world-class technology, including facial analysis software and digital photography, in our state-of-the-art smile design studio. This enables our dentists to diagnose dental conditions and create custom treatment plans to help patients obtain healthy, beautiful, and symmetrical smiles. Our providers can even help patients preview their potential treatment results using innovative imaging software.
If you have questions about porcelain veneers, crowns, gum recontouring, cosmetic bonding, or the other cosmetic dental options we offer, please contact Elite Dental today! A friendly and knowledgeable member of our team will be happy to answer any questions or help you schedule a consultation.