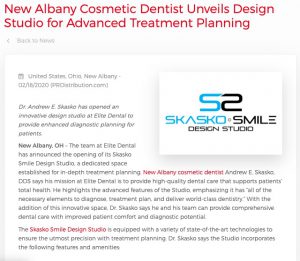 Dr. Andrew E. Skasko has opened an innovative design studio at Elite Dental to provide enhanced diagnostic planning for patients.
New Albany, OH – The team at Elite Dental has announced the opening of its Skasko Smile Design Studio, a dedicated space established for in-depth treatment planning. New Albany cosmetic dentist Andrew E. Skasko, DDS says his mission at Elite Dental is to provide high-quality dental care that supports patients' total health. He highlights the advanced features of the Studio, emphasizing it has "all of the necessary elements to diagnose, treatment plan, and deliver world-class dentistry." With the addition of this innovative space, Dr. Skasko says he and his team can provide comprehensive dental care with improved patient comfort and diagnostic potential.
The Skasko Smile Design Studio is equipped with a variety of state-of-the-art technologies to ensure the utmost precision with treatment planning. Dr. Skasko says the Studio incorporates the following features and amenities:
A lounge-style environment to provide comfortable consultations, rather than having patients sit in dental chairs.
The highest level of digital photography and lighting to aid in the process of case planning.
Digital Smile Design software to digitally enhance smile photos on a 70-inch screen, helping patients visualize their potential results.
Videography that allows for an in-depth analysis of a patient's unique smile dynamics and movements.
Designated area for group treatment planning sessions, helping Dr. Skasko and his team produce the most effective treatment outcomes.
Dr. Skasko notes that all reconstructive and cosmetic dentistry should begin with a thorough collection of diagnostic data. Through the professional photo studio and consultation lounge at Elite Dental, he is able to optimize each patient's treatment plan, establishing the most appropriate solution that contributes to their overall wellness.
About Andrew E. Skasko, DDS
Dr. Skasko provides a wide range of family, cosmetic, and restorative dental care at Elite Dental. After completing his undergraduate education at the University of Arizona in Tucson, he earned his Doctorate of Dental Surgery from The Ohio State University. With a commitment to patients' total health, Dr. Skasko is an ambassador for Complete Health and has been appointed as one of the organization's three delegates within the U.S. Dr. Skasko is also a member of several professional associations, including the American Academy of Cosmetic Dentistry, Academy of General Dentistry, and American Dental Association. He is available for interview upon request.
To learn more about Dr. Skasko and his practice, visit newalbanyelitedental.com, instagram.com/drandrewskasko and facebook.com/NAEliteDental.
Contact:
Elite Dental
5101 Forest Drive, Suite A
New Alblany, OH 43054
(614) 939-0400
Rosemont Media
858-200-0044
www.rosemontmedia.com