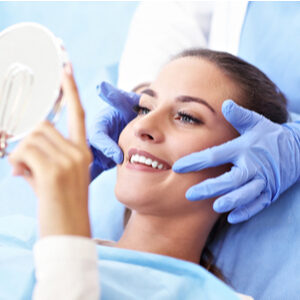 While teeth are some of the most durable structures in the human body, they are not completely insusceptible to chips, breaks, and other kinds of damage. A chipped tooth most commonly results from a traumatic facial injury; however, it's also common for individuals to chip their teeth when trying to open a package or a bottle with their mouth (which is never a good idea!). Even a minor chip in an otherwise healthy tooth can cause a significant effect on one's overall smile aesthetic. The good news is, there are several effective ways to fix a chipped tooth, and all of them are available from Dr. Skasko here at Elite Dental!
Here are a few of the most popular treatments to restore a chipped tooth:
Porcelain Veneers
Porcelain veneers are a good option for a variety of cosmetic dental concerns, and addressing chips is one of the most prominent benefits of this solution. Porcelain veneers are custom-designed dental restorations that fit over the front and sides of a chipped tooth. They are made to look exactly like a natural tooth, serving to "mask" the chip and produce results that appear as though the tooth was never damaged.
Cosmetic Bonding
Cosmetic dental bonding is an alternative to porcelain veneers that can also effectively restore a chipped tooth. This treatment involves the application of a durable resin that is carefully shaped and hardened, essentially rebuilding the lost part of the tooth with a tooth-colored dental material. While cosmetic bonding is often a more cost-effective option when compared to porcelain veneers, the results typically are not as long-lasting. With that in mind, proper care of the tooth after dental bonding can help the effects last for many years.
Dental Crowns
A custom dental crown may be necessary if the tooth is chipped so badly that its overall structure and health is endangered. A porcelain dental crown covers the entire tooth and is designed to provide enhanced strength and a natural appearance. This option can not only improve both function and aesthetics, but can also help prevent additional decay and damage from further compromising the tooth's health.
If you would like more information on our cosmetic and restorative dental procedures, or if you are ready to schedule an appointment, please contact Elite Dental today.